These images show a job we completed in Torkington Park, Stockport. The first image shows how large the tree had grown in comparison to the house. This happens over many years but some of our customers report that once the tree becomes problematic, it can mean they need urgent help.
The following images show the process of reduction (and the sheer amount of wood created from that process).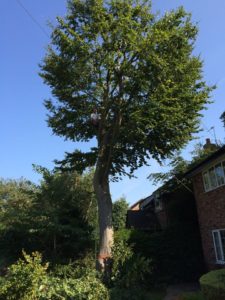 There may be a few different reasons as to why a tree may need felling; these may include the fact that it has died, is dying or has become dangerous. In any of these circumstances, it is pivotal that caution is used when tree felling.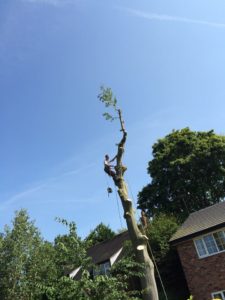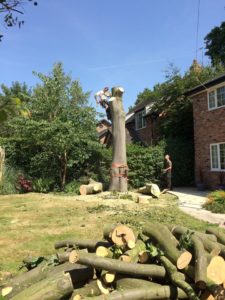 We have formulated the following four-step guide for felling a tree, however, our best advice is to be careful and never push the boundaries of safety.
Here's our 4-step Guide to Tree Felling:
The first cut is a horizontal cut, this should be a third the width of the tree.
The second cut is a wedge cut, which should meet the horizontal cut. From this, a piece of wood should drop out which resembles a segment of orange. This will determine the direction the tree will fall in.
The third cut is to the back of the 'V' of the wedge cut. Make sure you leave a substantial piece of holding wood (the hinge) of which the tree will pivot and fall. Important: this is determined by the size of tree you are felling.
When the tree starts to fall use your escape route to the safe area. This should be pre-planned and discussed in detail with any other individuals helping to complete the task.
It is highly likely that after reading the above information that you may be feeling overwhelmed. This does depend on the size of the tree, but if you are looking for further advice please call today on 07855 859983.