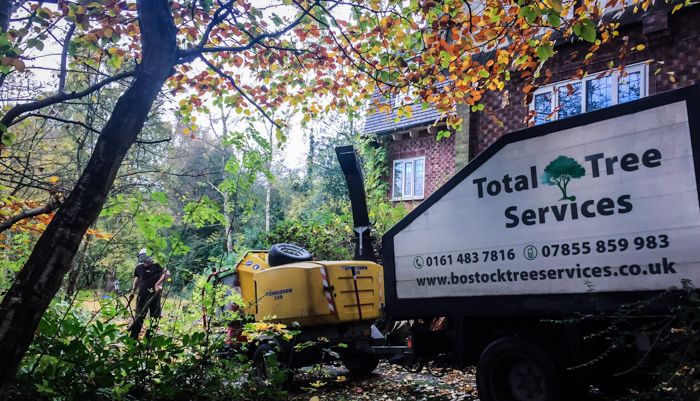 Tree services work is incredibly rewarding. We work hard to provide our clients with a first-class service. This is in terms of the results we deliver alongside offering the best possible customer service. Here are just some of our most recent reviews:
Bostock Total Tree Services Reviews
Ben and his team did a great job on reshaping an overgrown conifer, reduced the height of a number of very tall conifers and cut down an old Larch tree this week. The guys worked hard, removed all the logs and branches and left the garden immaculate. No hesitation in recommending – Kim Brooks
Ben did an excellent job removing a couple of trees. He provides a highly professional and efficient service. I'm very happy to recommend him – Bramhall Park Physiotherapy
Professional advice and excellent service provided. Would highly recommend – John Gilmartin
Delighted with Ben & lads work once again. Efficient, diligent & extremely tidy job over 2 days…lots of tall conifers trimmed down and 2 felled totally. Excellent price – highly recommend – Colette McGonigle
Thanks to Ben and the lads. 3rd trim for our Oak over last 10 years and, as usual, a neat looking tree and everything cleaned up thoroughly. I have no hesitation recommending them however big or small the job. They like to leave trees standing and healthy if possible which suits me – Ged
What a fabulous and personable company. Ben responded to my initial query within the hour to arrange a visit and quotation and turned up soon after to give his advice on my tree with a quote that was competitive. To add to that he also gave advice on my other trees and named a few of them too for me as I didn't have a clue what they were!

A few days later I called again worried about the storm which was due to happen over the weekend. Ben came round within twenty minutes (on a Friday afternoon!) to top my tree as he knew I was concerned and wanted it doing quickly. I couldn't have asked for more outstanding service.

My tree has been saved and I also have peace of mind. I wouldn't go anywhere else other than to Ben Bostock and his team for any tree worries – shetv20091
If you would like to find out more about our tree services, please call 07855 859983.