There are clear signs that Spring isn't too far in the distant future. It is a wonderful time for so many reasons. But also, because everyone starts to think about their garden. The sad thing is that our gardens are likely all looking a little sad at the moment. There may be small signs of Spring, but the signs of Winter seem to be still looming.
We offer a comprehensive range of services. Details of each of these services are visible throughout our website and include tree removal, tree pruning, tree felling, stump grinding, tree reshaping and more.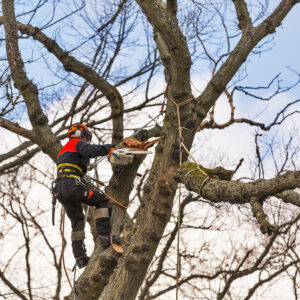 Our team are on hand to offer a 24-hour emergency call-out service; we are a truly convenient tree surgeons. We take great pride in our work. We arrange appointments at a time convenient for our clients and we will always be prompt and professional.
"I would be happy to recommend Total Tree Services, We have used them on three occasions and found Ben and his team to be to be knowledgeable and professional. They have always been reliable, efficient and clear everything away. They have always been pleasant to deal with." – Peter Roche
What does Spring mean for our Gardens?
Spring tends to be that time where we plan ahead for the times when we get to enjoy our gardens. Through Spring and Summer we all tend to spend as much time in our gardens as possible. This does come with some work to prepare the space so that it is enjoyable and manageable. Tree care is a large part of this. Trees that have become overgrown can become problematic. Therefore, it is important that your trees are regularly trimmed in order to maintain them.
"I am a local gardener and have sub contracted Total Tree Services a number of times, and have absolutely no hesitation passing their number onto my customers. Ben's work is thorough, safely carried out and second to none. He is hands down the most reliable Arborist in the area and I look forward to working with him again." – Luke Burras
If you are considering asking for help with any tree services, please get in touch by calling 07855 859983.