Commercial Tree Surgery
Looking for a commercial tree surgeon? Look no further. Our tree surgery services extend to all aspects of commercial work. We have the labour and equipment capacity to carry out almost any large scale work. Furthermore, we take great pride in completing all work to an extremely professional standard.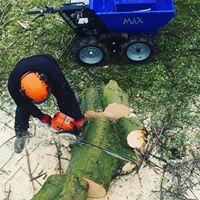 We serve the Cheshire and The North West for all commercial tree surgery. Furthermore, we offer a 24 Hour emergency call-out service. You never know when you might need a team of the best tree surgeons.
Bostock Total Tree Services are responsible arborists. Our liability insurance covers us for up to £2,000,000 of liability. Please note we are happy to provide proof of insurance on request. This is vital for any commercial tree surgeon.
Safety First!
Safety is paramount when working on any hazardous site. That's why all employees go through rigorously training and certifications as professional tree surgeons.
You can read more about how seriously we take safety here.
Our commercial clients include local councils, churches, schools, local businesses, to name a few. Please contact us for a quote. Call Ben on 07855 859983 or use the contact form here.
We are best-equipped to take on large-scale work. We were recently employed to feel a large 150ft landmark tree in Bramhall. This particular tree has a tree preservation order by Stockport Council.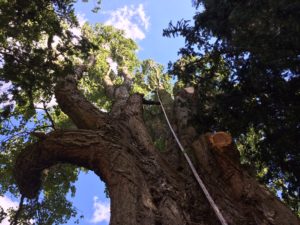 Our work was carried out to meet the British Standard 3998 requirements. Careful planning and preparation is key with such a project. This ensures the safety for all of the surrounding areas. Futhermore, public and passers by are kept completely safe.
We received incredible feedback on completion of the project. This forms an example of the standard or work that we complete.
Care and consideration for our customers is paramount. Therefore, our clients have assurance that Bostock Total Tree Services are confidently able to assist with your commercial tree surgery work!
Are you looking for a reputable commercial tree surgeon? Look no further. Call our friendly and helpful staff today on 07855 859983. We will be happy to discuss all elements of our service and to answer any questions you may have.
We cover a huge range of services for our clients. This is really important when our clients have different projects they need working on together. We are your one-stop company for tree work.