We offer specialist stump grinding services for all areas that we serve. We are currently based in Macclesfield and serve all of the surrounding areas including Congleton, Alderley Edge, Wilmslow, Sandbach and Cheshire.
It a tree has fallen or has been taken down and you are left with a stump, there are different reasons why you may wish to have it removed. Removing a tree stump is not just a matter of aesthetics, it is actually a safer alternative. Most believe that it is a personal preference and this is not always the case.
Stump Grinding – Why Remove the Tree Stump?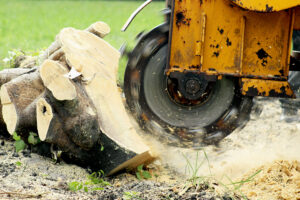 Homes with children often worry about leaving a stump above ground. They feel that it provides a potential hazard for their children while playing.
Tree stumps can quickly become breeding grounds for unwanted insects in your garden. As the wood breaks down, it becomes a great habitat for insects.
If not treated appropriately, the tree stump will also likely start to harbour diseases or fungus. There are not good if you have children and are also not good for your surrounding plants.
The process of breaking down a tree stump takes many, many years, leading into decades in some cases. Therefore, not everyone has the luxury of that time. They may have a plan for that space to become something else (useable).
What are my options?
There are two main options if faced with this problem. These include stump grinding and tree stump removal. The main difference is that with the stump grinding process, the stump will be ground down, leaving the roots underground to die off over time. They will decompose slowly and naturally, and you won't have the same issues as a stump that is left above ground.
Stump removal removes the entire stump and the tree's roots. This can sometimes be seen as a more invasive treatment and may cause disruption. However, it is the best option if you are looking to replant something in the place where the old tree once was.
We are on hand to offer tailored advice to achieve the best results for you. If you would like to request a quote, please contact Bostock Total Tree Services on 07855 859983.