We are leading trusted tree surgeons in Stockport and Cheshire. We offer domestic and commercial tree surgery services with a team of highly skilled and qualified tree surgeons. Our arboriculture services cover all aspects, and we are well-equipped to take on all projects.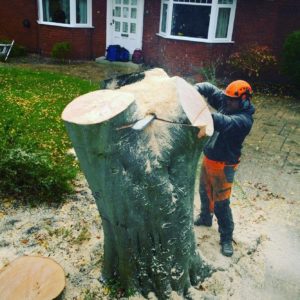 Are you looking for a leading tree surgeon based in Stockport? A lot of our clients like to use local companies. This has been especially important in recent times. We specialise in all aspects of tree care services including tree felling, pruning, stump grinding and more. We offer competitive pricing for our work with a host of 5 star reviews. For what we do it is important that our team are qualified. This comes through vast experience and training. Our team are also covered by our comprehensive insurance.
It is that time of year again where we all start to envision our summer-time garden. This may mean a lot of work for some individuals. It will also mean planning for what trees and shrubs have become too large. A lot of our clients look for our tree services at this time. They want to make sure that trees are sorted prior to spring growth.
A Free Quotation Service
We offer a free quotation service for our tree surgery work. This offers details about the work we will undertake. We will also advise you as to when we could possibly schedule the work. We always try to work with our clients to arrange times that are convenient for them.
One of our clients recently commented:
"Ben and his team were very professional – worked hard and efficiently completed the job at hand. Polite and cleaned up brilliantly after they had finished the job – would definitely recommend!"
If you would like to get in touch to find out more about our work as trusted tree surgeons, please call today on 07855 859983. Please note we are taking Government Guidelines very seriously in order to protect our clients and our staff during these times.