Cutting back trees is an important element of keeping on top of their growth. It also helps maintain the health of your garden trees. This time of year may not be the best weather wise. However, it is an incredible time of year for cutting back trees or tree reduction.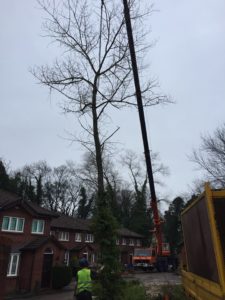 Why is this? Your trees and shrubs will have grown hugely through the spring and summer months. The milder weather (combined with our usual rain) means that they grow well during these months. Younger trees and older trees work in the same way. However, it is likely that growth on younger trees is more visible.
After this period of growth, the leaves will have fallen. This means that you are left with the branches that can more easily be cut back. It will prepare the tree for further growth next year. Furthermore, it allows you to keep on top of tree sizing. Trees do often grow quickly, and their growth can get out of hand. This means that more major tree work is needed and can become quite costly.
Cutting Down Trees – Ask for Help
Rather than leaving it until it is too late, it is important to ask for help. Cutting back trees, reshaping trees and general tree work is our passion. We are happy to discuss our services and what methods will work best for you. It is important that you receive advice based on what you want. There is no blanket right answer and therefore a tailored service is vital.
Our clients experience in dealing with us is really important. Some of our clients commented:
"I have used this company on several occasions and their service is excellent, very professional, hard working and reliable. I obtained three competitive quotes and theirs was the cheapest of the three. I would not hesitate in recommending this company."
"Very efficient and good service, they did a really good job and left the garden very tidy. Wouldn't hesitate to recommend."
Call today on 07855 859983.