Tree pruning and maintenance really is the key. Trees are a really important part of our garden landscape. Beyond their beauty, they provide shade and other ecological benefits. To fully enjoy this, its important to keep up to date with pruning and maintenance of your trees. This will keep your trees looking great and will promote the good health of your treasured trees. The following benefits have been put together in order to help you understand the benefits of tree pruning and maintenance.
Tree Pruning ensures the safety of your property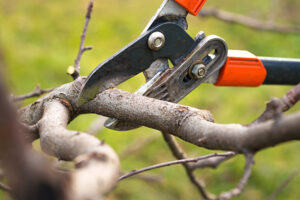 Trees can provide hazards for your home and the people who live there. Regular tree pruning can quickly identify any potential hazards. Hazards can arise from both diseased or overgrown trees. Pruning also helps to keep the individual tree health and strong which works to protect them.
Getting the most from your trees offers great value. Correct tree pruning helps to shape a tree which promotes natural growth patterns. Getting into good habits with your garden is always a good idea. Getting to know your local tree surgeon will offer great benefit as you will gain a host of advice and support in relation to keeping your trees healthy and manageable.
Tree Pruning improves the overall look of your garden
Trees that are regularly being pruned will have a better appearance. They will be shaped and tidy. It is easy for a tree to make your property look better. However, a poorly cared for tree can also quickly detract from your property's appearance. Regular clipping and pruning helps to promote growth of healthy new branches, offering a fuller canopy.
An overgrown tree can provide issues for your garden. You can easily and quickly find yourself in a position where a large part of your garden is covered in shade. In some cases, this is ok, however, people would also like the option of having sun. Furthermore, large trees can create issues between neighbours as you end up shading their garden or branches grow over their boundary. Pruning and maintenance helps to avoid any conflicts such as these.
Tree Pruning promotes healthy growth of your trees
Professional tree pruning quickly identifies any issues your tree may be having. The process can remove diseased or damaged branches. Furthermore, this can prevent any disease unnecessarily spreading to other parts of your tree. The key point is to promote healthy growth so that your tree is in its best position to grow healthy branches and foliage.
We are trusted, professional tree surgeons serving Macclesfield and the surrounding areas. Call today on 07855 859983.