We are accredited tree surgeons, serving Macclesfield and the surrounding areas. It is that time of year again where everything starts to grow and mature in your garden. We look forward to spending more time in our gardens. However, there are sometimes jobs left from previous years that we may have wished we had sorted. Some trees seem to become too large to handle in what seems like overnight.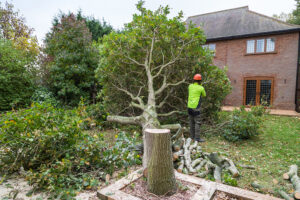 You wouldn't believe how many clients we have that say this causes neighbour disputes. Whether they feel you are blocking their sunlight, or your tree is dropping into their garden, it can be quite a stressful situation. Nobody wants to live with tension. You want to be able to enjoy your garden and get the most from it.
Tree Surgeons – Incredibly Insights
"I have no hesitation in strongly recommending Bostock Total Tree Services, and agree with the other excellent reviews posted about this company. I found Ben to be knowledgeable and very professional. His quote was competitively priced and he and his team were very pleasant and conscientious throughout. They removed and ground out the stumps of two lengths of old hedging; felled and stump ground three trees and pruned an old cherry tree for us. They were punctual, efficient and hardworking, despite working in almost continuous rain, and we were especially impressed with the way they tidied up the site afterwards."
Problem trees can also be the source of some stress. We are happy to provide information and advice based on your individual issues. This may be related to disease or growth issues. We will do our utmost to achieve the best results for you. Our team are equipped to deal with domestic projects as well as larger commercial tree services.
If you would like to find out more about our tree service prices, get in touch by calling 07855 859983. If we don't answer, leave a message and we will make sure to get back to you as soon as possible.