Overgrown trees can cause homeowners some real problems. Local tree surgeons can help! Overgrown trees can block out light, overhang other people's boundaries or pavements. As the owner of the land, you are responsible for all vegetation growing on that land. If vegetation (i.e. trees or hedges) start to grow over boundary lines, you can be reported. This process is in place so that if trees or shrubs are causing an obstruction, they can be dealt with. It needs to be enforceable if over a public highway.
What happens if trees are overhanging your garden?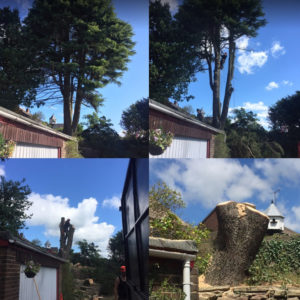 There are different elements of the law that you need to be aware of. Much of these may seem strange. However, you do not want to put yourself in a position where a neighbour dispute gets ugly. If you have a question you can always call your local council or see if your chosen tree surgeon has advice.
If a tree or hedge is growing over your boundary, by law you are able to cut them back. Here is the bit that some people find hard to believe. You must, under law, offer to return the cut material to the landowner. Another thing that you should be aware of is that if any work you do to trim the tree or shrub causes it to die that you may be held responsible. In a worst-case scenario you may then find legal proceedings against you, should your neighbour so wish to.
Please always ensure to check if you live in a conservation area or whether the tree is protected by a Tree Preservation Order. If this is the case, you will require additional consent prior to any works being carried out.
It is always worth investing a little time into gathering information. Don't rush into cutting down trees and always ask for information advice from local tree surgeons. We are local and professional tree surgeons serving Cheshire. Call 07855 859 983 for more information about overgrown trees.